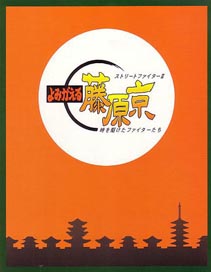 Street Fighter II: Yomigaeru Fujiwara-kyō (ストリートファイターII よみがえる藤原京, lit. Street Fighter II: Return to the Fujiwara Capital?) is an anime educational short film and quasi-sequel to Street Fighter II: The Animated Movie, given that it uses the same animation style from the former. It was released shortly after the anime film in 1995 in Japan only.
Development
Edit
From April to mid-May of 1995, an exhibition themed around Fujiwara, considered Japan's first real capital, took place in the Nara Prefecture of Japan, not far from Osaka. Capcom, a partner of the event, helped create a 20-minute anime documentary. This documentary was available only on VHS and sold only at the venue.
For many years, it remained almost completely unknown, and was vaguely mentioned on two or three Japanese websites, acquiring the status of a "highly collectible" cult product. Luckily, this documentary was released on DVD to the market for the 15th anniversary of the Street Fighter series, making it more available to the foreign market, and is still available in some stores.[1]
Description
Edit
Ryu, Ken and Chun-Li are invited to Japan by E. Honda to witness the sumo wrestler's newest move, but a chain of events results in the four of them being sent back in time to Fujiwara, the ancient capital of Japan. Ryu and Ken end up separated from Chun-Li and Honda, and set out to find them, all the while Ken telling Ryu about the history of Fujiwara and time travel. They eventually locate Chun-Li and later Honda, and the four are sent back to present-day Japan.
References
Edit
See also
Edit
Community content is available under
CC-BY-SA
unless otherwise noted.