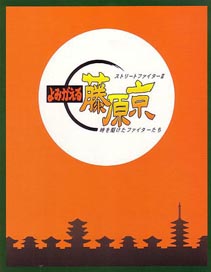 Street Fighter II: Yomigaeru Fujiwara-kyō (ストリートファイターII よみがえる藤原京, lit. Street Fighter II: Return to the Fujiwara Capital?), or Street Fighter II: A Revived Fujiwara-kyō - The Fighters Who Ran Through Time, is an anime educational short film and the quasi-sequel to Street Fighter II: The Animated Movie, given that it uses the same art-style from the former. It was released shortly after the anime film on March, 29, 1995 in Japan only.
Development
[
]
From April to mid-May of 1995, an exhibition themed around Fujiwara, considered Japan's first real capital, took place in the Nara Prefecture of Japan, not far from Osaka. Capcom, a partner of the event, helped create a 20-minute anime documentary, which was screened at their booth at the "Romantopia Fujiwara kyo '95" exhibition on May 21st. This documentary was available only on VHS and sold only at the venue. The film shares the same art-style with Street Fighter II: The Animated Movie, but in a very similar, albeit rougher style. The animation is done by Japanese animation studio, Pierrot.[1]
For many years, it remained almost completely unknown, and was vaguely mentioned on two or three Japanese websites, acquiring the status of a "highly collectible" cult product. Luckily, this documentary was released on DVD to the market for the 15th anniversary of the Street Fighter series, making it more available to the foreign market, and is still rarely available in some stores.[2] As of now, VHS and some DVD copies are out of print and are no longer available in most stores, (though this is subject to change in the future).
Description
[
]
In the prologue, Ryu, Ken and Chun-Li are invited to Japan by E. Honda to witness the sumo wrestler's newest move, but a chain of events results in the four of them being slipped back in time to Fujiwara, the ancient capital of Japan, 1,300 years ago due to a space-time storm suddenly caused by Kameishi. Ryu and Ken both end up separated from Chun-Li and Honda, and set out to find them, all the while Ken telling Ryu about the history of Fujiwara and time travel, while learning about Japanese history, as they experience the rise and fall of the capital in the rapid flow of time. They eventually locate Chun-Li and later Honda, and soon, the four are all sent back to present-day Japan.
Cast
[
]
Akio Ohtsuka as Ryu
Keiichi Nanba as Ken Masters
Daisuke Gouri as E. Honda
Michie Tomizawa as Chun-Li
Atsuko Mine as Praying Woman
Hisayoshi Izaki as Patient
Toshihiko Nakajima as Merchant
Masahito Kawanago
Matsuo Matsuo
Yuko Ikeda
Gallery
[
]
Cover Art
[
]
Screenshots
[
]
Other
[
]
Trivia
[
]
This is the first Street Fighter anime that has a time travel element.
The end credits of this film feature all four characters performing their favourite special moves.
Street Fighter II: Yomigaeru Fujiwara-kyō is the only Street Fighter film that does not have any battle scenes.

It is also the only film to not have a HD re-mastered or localized release, so far.

Like Street Fighter Alpha: The Animation and Generations, the film was not included as part of the Street Fighter 25th Anniversary - Collector's Set.
The film was bundled with the complete edition of the Street Fighter II: Ryu manga.
The DVD re-release includes an sketch gallery as a bonus feature, where you can view original character sketches - in a style reminiscent of Street Fighter II: The Animated Movie, given that their art style is similar to that film.
On June 15, 2021, and October 14, 2021 respectively, Taka Nakayama's Twitter Account, and the official Japanese Street Fighter Twitter Account both tweeted out posts releated to this film for it's 26th year.
References
[
]
See also
[
]