Street Fighter V: Arcade Edition is a 2.5D fighting game and the first major updated version of Street Fighter V. It costs $39.99 for the standard edition, and is a free update for those who already own the original version. It features all the original playable characters (including the twelve DLC fighters), an Arcade Mode (which was absent in the original installment), new modes such as the Extra Battle Mode, selectable V-Triggers, as well as new visuals to the game's design.[4] Street Fighter V: Arcade Edition was released on January 16, 2018. Unlike the original version, it was also released for arcades, officially titled Street Fighter V: Type Arcade.
Gameplay
[
]
Street Fighter V: Arcade Edition plays at its core the same as the original Street Fighter V, but with various quality of life improvements and additional modes that were either heavily requested or announced, but never released in the previous version. This version also includes a brand-new CG opening cinematic.
Features
[
]
New UI: The general UI has seen various visual changes. The main menu now sports a yellow and gold palette as opposed to black and blue. The character select screen has been revamped to accommodate for extra fighters. The background of the select screen has been changed from a globe to a gold arena. The UI while in fights has also gotten gold plating and the Critical Art and V-Trigger meters have been changed and text has black borders.
Second V-Triggers: All playable characters have now second V-Triggers, referred as "V-Trigger II", that is selectable on the character select screen.
Bonus Stage: A bonus stage is available. The player is tasked with breaking twenty barrels as they plummet into the center of the screen from conveyer belts above. The player will also have "help" from a computer-controlled character who will keep the barrels in the center using his own move set. Final Fight enemy character Two P appears as a CPU opponent.[5]
Modes
[
]
Arcade Mode: The standard arcade mode that is seen in other Street Fighter games. In this installment, there are six modes that can be played in that represent each major game of the franchise: Street Fighter, Street Fighter II, Street Fighter Alpha, Street Fighter III, Street Fighter IV, and Street Fighter V. Each one contains returning fighters sectioned into the games that they first appeared in. There are over 200 arcade endings featuring illustrations from various artists (players can head into the Gallery to find out the unlock condition for each ending). The endings range from simply completing a path to getting a "Perfect" on the bonus stage.[5]
Extra Battle Mode: Time exclusive challenges that allow players to fight powered up versions of existing characters who rewards special titles, Golden/Silver Shadaloo Soldiers, who rewards Fight Money and EXP respectively and playable characters dressed in Capcom Costumes, which can be unlocked by obtaining all 4 pieces of that character's costume.
Gallery: A library of artworks, music and opening movies.
Team Battle Mode: A returning mode from Ultra Street Fighter IV. A heavily customize-able mode where numerous characters in two teams are queued up in various fights and each fighter are eliminated in a queue until one team's fighters are all eliminated. Once a fighter is eliminated from one side, the next fighter in that team line-up fights the character that eliminated the first fighter.
Characters
[
]
At launch, Street Fighter V: Arcade Edition includes all 28 characters from the original version of the game, including all the Season 1 and 2 DLC fighters. Players who buy the retail version will get the DLC fighters for free via download code, but players who download Arcade Edition as a free update for the original game will still have to pay for them. The Season 3 DLC fighters became available for the first time with this version, which includes four frequent veterans and two new fighters. The Season 4 DLC, was announced accidentally after Capcom Cup 2018, and will have its characters' proper release in 2019. Currently, six characters have been confirmed, including three frequent veterans, another veteran who hadn't been seen since Street Fighter III: Third Strike, a new form of another recurring fighter, and a new fighter who previously appeared in Final Fight 3, which brings the roster total to 40 fighters.
In 2021 and 2022, the fifth and final season will be rolling out, adding five additional fighters for a grand total of 45 fighters, one more than in Ultra Street Fighter IV, and the largest amount in the series thus far.[6] The Season 5 fighters will include two more frequent veterans, another fighter last seen in 3rd Strike, a new fighter joining from Rival Schools, and a brand-new fighter. A bonus 46th fighter, Eleven, who morphs into the form of a random fighter before the beginning of a match, can be obtained by purchasing the Premium Pass for this season.
([number]): Denotes for which DLC Wave are DLC characters first released in. See above.
Stages
[
]
K Denotes stage has cinematic knockout zones.
S Denotes stage has secondary areas.
L Denotes stage that is only available for a limited time.
H Denotes stage that has wearable hat from knockout zones.
C Denotes stage is a Classic Stage.
([number]): Denotes for which DLC Wave are DLC stages first released in. See above.
Only in Story Mode
[
]
in A Shadow Falls
City in Chaos at Night
Artillery Field
Control Room
Lair of the Four Kings (Past)
Crumbling Ruins
Elevator
Corridor A
Corridor B
Development
[
]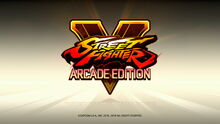 During the development of the original Street Fighter V, producer Yoshinori Ono stated that gameplay expansions and changes would not come in new updated installments like with previous Street Fighter games but rather gradually be added to the game over the long term,[citation needed] and Capcom stated that an Arcade Mode would be released in the future.[citation needed] On September 20, 2017, the UK games retailer ShopTo showed a listing for Arcade Edition.[7]
Merchandise
[
]
Reception
[
]
Street Fighter V: Arcade Edition holds a Metascore of 87/100 based on 36 critics, citing generally favorable reviews.[8] Positive reviews came from IGN, GameSpot, Hardcore Gamer, and Electronic Gaming Monthly; all of which gave the game a 9/10 citing the game as a transformation from being an unfinished product to a fully fledged experience. Each praised the addition of the content in Arcade Mode and the option to select a second V-Trigger, with some praising the addition of the Team Battle mode and having frame data in the training mode. EGM praised "the ability to bring up a 3D viewer in the Shop (in order to get a proper look at new costumes and color variants before purchasing them), combined with the option to filter certain purchasables (such as outfits) only for certain characters".[9][10][11][12] Push Square was less positive, giving the game an 8/10, saying that "There's a cynical part of us that says Arcade Edition is little more than a glorified season three update, but the simple truth is that there's never been a better time to jump in".[13] 4Players and NY Daily News both said it was the game "you always wanted".[14][15]
The Arcade Edition was nominated for "Best Fighting Game" at The Game Awards 2018 and for "Fan Favorite Fighting Game" at the Gamers' Choice Awards, both losing to Dragon Ball FighterZ.[16][17] Said Arcade Edition was also nominated for the Raging Bull Award for Best Fighting Game at the New York Game Awards, losing to Super Smash Bros. Ultimate.[18][19]
Trivia
[
]
The Street Fighter I route in Arcade Mode also includes Final Fight characters. This is because both games occur at around the same time chronologically. Also worth noting is that the first Final Fight game was originally called Street Fighter '89, but the name was later changed.
Interestingly, there is no bonus stage in the Street Fighter IV route which is strange as the Street Fighter IV series did eventually get the "Barrel Blast" bonus stage in Super Street Fighter IV.
Strangely enough, in the Japanese version of DLC trailers, the text and voices are in Japanese, however when they display the character's gameplay, they can be heard in English.
Gallery
[
]
Videos
[
]
References
[
]
External Links
[
]