This article or section is a stub.
You can help the Street Fighter Wiki by expanding it.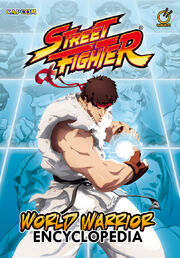 Street Fighter: World Warrior Encyclopedia is a book published by UDON Entertainment in 2011. It is an Encyclopedia of the Street Fighter characters.
Overview
[
]
This book contains bios on most of the Street Fighter characters, save for those introduced in the Street Fighter EX series.
Each character has a full page artwork, along with their bio, which seems to be entirely official (i.e. taken from the games, and various Capcom fanbooks). It also contains a smaller glossary like section in the back with tidbits on lesser characters like Ken's wife, SFI characters, etc. Fortunately they are based all of the facts based on any information supplied in any past history of Street Fighter, making it more creditable and true to the series.
An updated and expanded version of the encyclopedia book was released by UDON in 2015. It was followed by a second updated version in April 2020.
See also
[
]