This article or section is a stub.
You can help the Street Fighter Wiki by expanding it.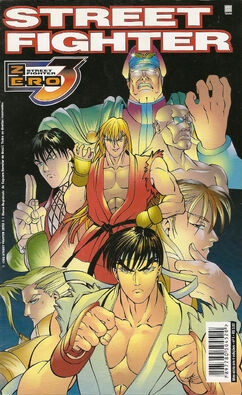 The Brazilian Street Fighter Zero 3 comic is a four issue mini-series, based on Street Fighter Zero 3, published in 1998/1999 by Trama Editorial (not related to the Spanish publisher with an identical name). It was written by Marcelo Cassaro, drawn by Erica Awano, and colored by Wagner Fukuhara. Each issue also had a short side-story written by Cassaro and drawn by other artists.
Previously, Cassaro had worked on the Escalas comic book, but was invited by one of the former founders, Ruy Pereira, to join his new publisher, Trama, there Cassaro also published a Brazilian version of Street Fighter: The Storytelling Game and an adaptation of Street Fighter Zero 3 for the system, 3D&T.
Gallery
[
]
Trivia
[
]
Capitão Ninja, a character created by Marcelo Cassaro, is shown as Chun-Li's ex-boyfriend, this is a joke with parodies that Cassaro made for Gamers magazine, where Ninja was Chun-Li's boyfriend, in the first version of the role-playing game "Defensores de Tóquio", because of copyright issue, Ninja's boyfriend was named Lun Chi.
External links
[
]