Super Street Fighter IV (スーパーストリートファイターIV, Sūpā Sutorīto Faitā Fō?) is a 2.5-dimensional fighting game, and is an update of Street Fighter IV. It features additional characters and character tweaks based on community feedback. It also features an improved online mode. It was released as a standalone game for the PlayStation 3 and Xbox 360 on April 27, 2010 with a 3D Edition also being released for the Nintendo 3DS as a launch title. An update; Super Street Fighter IV: Arcade Edition, was released in December, 2010.
Development
[
]
In September 2009, Capcom began hinting at an update of Street Fighter IV. Leading up to its official announcement, teasers and leaked images pointed to a Super Street Fighter IV, featuring T. Hawk and Dee Jay, the two fighters from Super Street Fighter II who were not included in Street Fighter IV, and were long expected to be added to Street Fighter IV as downloadable content.
On September 28, 2009, Capcom officially announced the game, revealing it to be a standalone title. According to developer Yoshinori Ono, this is because the changes, which comprises ten additional characters, improved character tweaks based on community feedback, and an improved online mode, were too extensive to release as DLC. As a compromise, the game was released at a lower price point, with two extra colors for fans who already owned Street Fighter IV.[1] It was released for $40 instead of $60.
Playable characters
[
]
Returning characters
[
]
| Character | Japanese voice actor | English voice actor |
| --- | --- | --- |
| Abel | Kenji Takahashi | Jason Liebrecht |
| Akuma | Taketora | Dave Mallow |
| Balrog | Satoshi Tsuruoka | Bob Carter |
| Blanka | Yūji Ueda | Taliesin Jaffe |
| C. Viper | Mie Sonozaki | Michelle Ruff |
| Cammy | Miyuki Sawashiro | Caitlin Glass |
| Chun-Li | Fumiko Orikasa | Laura Bailey |
| Dan | Toshiyuki Kusuda | Ted Sroka |
| Dhalsim | Daisuke Egawa | Christopher Bevins |
| E. Honda | Yoshikazu Nagano | Joe DiMucci |
| El Fuerte | Daisuke Ono | J. B. Blanc |
| Fei Long | Yuuichi Nakamura | Matthew Mercer |
| Gen | Youhei Tadano | Michael Sorich |
| Gouken | Tōru Ōkawa | Rod Clarke |
| Guile | Hiroki Yasumoto | Travis Willingham |
| Ken | Yūji Kishi | Reuben Langdon |
| M. Bison | Norio Wakamoto | Gerald C. Rivers |
| Rose | Akeno Watanabe | Gina Grad |
| Rufus | Wataru Hatano | Christopher Corey Smith |
| Ryu | Hiroki Takahashi | Kyle Hebert |
| Sagat | Daisuke Endou | Isaac C. Singleton Jr. |
| Sakura | Misato Fukuen | Brittney Harvey |
| Seth | Akio Ohtsuka | Michael McConnohie |
| Vega | Junichi Suwabe | Doug Erholtz |
| Zangief | Kenta Miyake | Anthony Landor |
New characters
[
]
| Character | Japanese voice actor | English voice actor |
| --- | --- | --- |
| Adon | Atsushi Imaruoka | Taliesin Jaffe |
| Cody | Daisuke Kishio | Michael T. Coleman |
| Dee Jay | Kenji Hamada | Chris Cain |
| Dudley | Naomi Kusumi | Stuart McLean |
| Guy | Tsuguo Mogami | Jason Miller |
| Hakan | Shintaro Ohata | Lance J. Holt |
| Ibuki | Ayumi Fujimura | Kat Steel |
| Juri | Eri Kitamura | Jessica Straus |
| Makoto | Makoto Tsumura | Jessica D. Stone |
| T. Hawk | Toru Nara | David Vincent |
Stages
[
]
New stages have been added to the game:
Gameplay Features
[
]
Super Street Fighter IV is rebalanced, with many top-tier characters having their abilities slightly "nerfed" and low-tier characters receiving upgrades [4] . Several new game modes have been introduced:
Team Battle Mode, where 1-4 players can take on another 1-4 online. The first players on each team face off, and the winner faces the next player on the opposing team, until all players from a team have been eliminated.
Endless Battle Mode, where players queue to challenge the current "King of the Hill", with losers being sent to the back of the queue, resembling the "I Got Next" system that operates in the typical local arcade. Players who are not currently playing can comment on the match in progress.
The Replay Channel, which differs from the old Replay Mode, allowing anyone to save up to 150 replays and share them with friends online, as well as upload them to the leaderboard if their Battle Points (BP) are high enough. Players can then watch replays of matches from around the world, even being able to see the inputs as the players pressed them. Replays saved to the hard drive can also be viewed in slow motion. Replays are categorized according to the characters fighting, the categories being "Originals", "Alpha", "Turbo and III", "Newcomers" and "Boss".
Bonus Stages in Single-Player Arcade Mode, where the player races against the clock to destroy a car, or attempts to destroy falling barrels. The player can choose to skip these by turning them off in options; they can also challenge them outside of Arcade Mode.
Reworked Tournament Mode similar to that in the original SF4, which was released as downloadable content. The mode supports upcoming "Capcom Cup" tournament events.[5]
Every character are now able to select between two Ultra Combos. All 25 original characters are able to choose from three outfits: their default, their old DLC costumes, and a brand-new DLC outfit released later on. New characters have a default costume and one DLC outfit. 6 of the original 25 fighters (C. Viper, Cammy, Chun-Li, Guile, Ryu, and Seth) all have second rivals, in addition to their first rival. The player is able to select which rival they wish to face by whether or not they press all three kick buttons when the "Now! Fight your rival!" message appears. The other characters have only one rival. The new 10 characters also only have one rival.
Story
[
]
Super Street Fighter IV is officially set in the same timeframe as the original Street Fighter IV. As confirmed by scenario writer Emiko Kawasaki in an official blog post, the story of Super Street Fighter IV happens "behind the scenes" at the same time as the story of the original[6]. While on its surface the original game's story is centered on Abel, Super is centered on Juri, who is as a character the exact opposite of Abel[6]. When combined, both games give the full story of the International Fighting Tournament held by Seth and S.I.N..
Other versions
[
]
Arcade Edition

[

]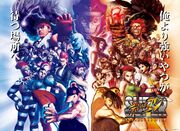 An arcade version of the game was also released in Japan on December 16. New features include the addition of two new characters (Yun and Yang) as well as many gameplay rebalances.[7] Additionally, the Arcade Edition includes two secret bosses (Evil Ryu and Oni) later added as playable characters. It was released worldwide on the PS3 and Xbox 360 on June 7, 2011 as DLC and as a stand-alone disc June 24, 2011 for Europe, June 28, 2011 for North America, and June 30, 2011 for Japan. SSFIV: AE was released for PC on July 5, 2011.
The game features all 39 characters already unlocked, and eight alternate costumes for the four new characters (two different costumes each for the four new characters), with different colors. The game feature an updated replay channel which feature Replay Follower, My Channel Advanced, and Elite Channel.
Seth Killian (Capcom's former senior manager) stated once that SSFIV: AE would be the last iteration of Street Fighter IV. Despite this, a new iteration, Ultra Street Fighter IV, was released in 2014.
3D Edition

[

]
A 3D version was also released for the Nintendo 3DS handheld. Features include true 3D graphics, online play, anonymous local wireless play, and a "Chance Encounter" feature whereby battles take place between figures the player have collected and figures that another person with Super Street Fighter IV game data on their 3DS has collected will automatically "fight" as they pass each other by, even if they aren't playing their 3DS, and even if they don't have the game card inserted. This feature is implemented by using StreetPass, and the player earn points to buy new figures by winning matches in the game.[8] Graphical changes include the ability to play the game from an altered camera angle, and static backgrounds. The touch screen can also be used for easy mapping of various attacks to one of four touchscreen buttons. The game features both expert and beginner input systems; in the beginner system (lite mode), the touchscreen can be used for combos, in the expert system (pro mode), the buttons on the touchscreen can only be used for button combinations.
DLC
[
]
Tournament Mode
[
]
On June 15th 2010, Capcom released new DLC for the game, including character balancing,[9] tweaks to gameplay, and a further improved tournament mode.
The following gameplay aspects were fixed:
Fei Long's infinite combo loop against Juri was removed.
Unblockable Ultras were fixed. This is where you throw a fireball and the Ultra flash made it so your opponent could not block.
Guy can no longer be able to be thrown while he's crouching and in hit stun animation. A bug made it possible to combo throw moves while he was in this state.
Ibuki's invincibility window on wake up — under certain circumstances — was too long.
The 2nd hit of Ibuki's Spinning Kicks missing Chun-Li was fixed.
Sagat's Angry Charge was not working properly in some instances (EX-Tiger Uppercut doesn't get damage upgrade in some cases).
Alt. Costume series 3
[
]
On July 24, 2010, Capcom announced the release of an additional, third series of alternate costumes for fall 2010.,[5] released on October 26.[10]
Trivia
[
]
The demo version was released exclusively for the PS3.
The title was planned to be "Street Fighter IV Dash" following the sequel "Street Fighter II Dash" (hereinafter "Street II Dash") of "Street II", but the current name is considering the release outside Japan. (Because the sequel to "Street II" was not released under the name "Street II Dash" outside Japan, and the word "dash" itself has the image of "fast").
Gallery
[
]
Videos
[
]
Audio files
[
]
See also
[
]
References
[
]