"Die a thousand deaths!"
Tanden Ignition is Seth's first V-Trigger in Street Fighter V.
Description
[
]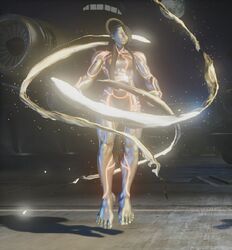 Executed by pressing Heavy Punch and Heavy Kick simultaneously, Seth levitates in the air and activates the Tanden Engine. By pressing Heavy Punch and Heavy Kick simultaneously during his special moves, Seth teleports behind the opponent and performs a follow-up attack depending on which move he uses. These follow-up attacks can be performed from Install Arts as well, such as Mad Spin from Shoryuken.
Additionally, Seth's Critical Art becomes the more powerful Tanden Extreme during Tanden Ignition, creating a dark-colored double of Seth that joins him in creating the move, ending by launching the opponent at the screen. This version inflicts more damage than the base version.
Tactics
[
]
As a three-bar V-Trigger, Seth must risk taking damage given his low stamina and stun. However, the ability to extend combos from not only his special moves but his Install Arts allows Seth to perform elaborate combos using multiple special moves. Both V-Skills are useful with this Trigger, as Tanden Booster gives Seth move variants he can also teleport after, and Tanden Engine gives Seth the ability to follow a normal special move with an Install Art, and follow the Install Art with a teleport attack.
Gallery
[
]
Trivia
[
]