The Disc's Guidance (円盤の導き, Enban no Michibiki?) is a one of Necalli's special moves in Street Fighter V. [1]
Description
Edit
Executed by charging backward, then pressing forward and punch, Necalli rushes in toward his opponent with an aggressive slash attack.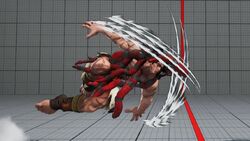 This move is well-used as a surprise attack or as a combo ender. Not only it leads to a knockdown, but it also leaves Necalli very close to his opponent, allowing him to continue offensive pressure. This move is also effective against any single-hit projectiles. Necalli can go through projectiles and counter attack due to the projectile invincibility of this move.
The strength of the punch button determines the moves startup, damage output and distance traveled. The Light version has the fastest startup. However, it does the least amount of damage and travels the same distance as Neecalli's forward dash. The Medium version travels mid-screen and inflects slightly more damage than the Light version. The Heavy version does the most damage and has Necalli travelling almost fullscreen. However, it has the longest startup.
The EX version does a total of three hits and deals more damage than the Heavy version. Not only it travels fullscreen, but it also gives Necalli a longer window of projectile invisibility. Unfortunately, this version is less safe on block at -13. If the opponent successfully blocks the EX Disc's Guidance, Necalli can be punished with damaging combos.
Activating V-Trigger makes this move travel much faster. In V-Trigger mode, the LP version is safe on block if spaced correctly. V-Trigger also removes the need to charge this move when used in combos.
Etymology
Edit
As with a majority of Necalli's moveset, the 'Disc' in this move refers to the 'Sun'.
References
Edit
Community content is available under
CC-BY-SA
unless otherwise noted.