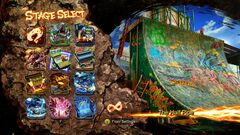 The Half Pipe is a stage that appears in Street Fighter X Tekken and Ultra Street Fighter IV.
Description
[
]
Street Fighter X Tekken

[

]
The battle starts above two half pipes, where three skaters watch the battle. Nearby two workers from "Constraction Co. Inc" are preparing to set a billboard (its advertisement being random), but are distracted by the battle. When a fighter is knocked down, the scaffold and the billboard may inclinate. In the end of the battle the fighters jump down the half pipe, and the billboard will inclinate further. Other billboards in the background show Rufus ("I am No. 1!!"), Hoimei ("Tea of Fighter"), Alex ("I will be back"), Tiger Jackson, and a Dinosaur Resort.
In the lower part, two of the skaters that were above continue watching the battle, while the other goes skating. The billboard that was above falls between the half pipes. In the background Yun can be seen skateboarding while Yang and Hoimei can be seen watching the fight. There is another random billboard in the background, which may fall when the ground is shaken by a knockdown.
Some changes were done in the PlayStation Vita version. Most people were removed from the top floor, except for the skater on the left corner. The bottom floor now takes place in the center of the half pipes, with two alternating events happening each round:
Yun will be balancing on his skateboard, sometimes flipping and holding it with a single hand. Hoimei watches him while Yang is sitting and appears to be bored. The area also has three seated skaters.
Yang is using his rollers on a bar that was added on the area. Yun and two skaters are seated and watching. Shaomei watches Yang.
Ultra Street Fighter IV

[

]
Only the lower part of the Half-Pipe is present, where it takes place in the East Coast of the United States. One of the half pipes is under construction, and the Street Fighter × Tekken graffiti is replaced by Ultra Street Fighter IV, which is done during the battle. If either Yun or Yang are participating in the fight, then a generic skateboarder will replace Yun and Yang's place will be empty. Instead of random billboards, the background billboard shows E. Honda and Hakan, and the billboard that falls (in the second round) is the one of the Dolls.
Themes
[
]
Gallery
[
]
Off Camera Scenery
[
]
Ultra Street Fighter IV stage theme lyrics

[

]
This is our war, Street Fighter IV (x4)

Come so far and this is the showdown
Now I really know I gotta stand my ground
Face to face, with my destiny
I see it in the eyes of my enemies
This ain't the time, for turning back
Every moment I'm-m-m-m under attack
We are but a few and there can only be one
That'll rise to the top and claim the crown
Now that I'm here, I want you to know
Life's a stage, and I'm the star of the show
From up top, I'll look below
You'll be blinded by my golden glow
If you get in my way, you will understand
I'm never backin' down 'cause I'm taking a stand
Give it everything you've got, you're still outmanned
Because my wish is my command
This is our war, Street Fighter IV (x2)
Now that I'm here, I want you to know
Life's a stage, and I'm the star of the show
From up top, I'll look below
You'll be blinded by my golden glow
If you get in my way, you will understand
I'm never backin' down 'cause I'm taking a stand
Give it everything you've got, you're still outmanned
Because my wish is my command