This article or section is a stub.
You can help the Street Fighter Wiki by expanding it.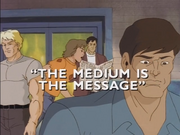 The Medium is the Message is the eighth episode in the first season of the Street Fighter TV series.
Synopsis
A Street Fighter tournament is being held in India, and Escher sends Guile and the rest of the street fighters to compete. M. Bison is attending as well, and has a double threat of a plan; use his new mutant combatants to destroy the street fighters, or have Balrog create a video of the street fighters defiling a Hindu temple fooling the populace into attacking them. Both of Bison's plans fail when Guile saves a scientist, and then performs a Flash Kick on a bomb.
Trivia
This episode is notable for producing an Internet meme on YouTube (M. Bison's quotes: "This is delicious!" and "YES! YES!").
Video
See also