The Tiger Cannon (タイガーキャノン, Taigaa Kyanon?) is one of Sagat's special attacks, introduced as a Super Combo in the Street Fighter Alpha series.
Damage

| | |
| --- | --- |
| On grounded opponent | 357 |
| On airborne opponent | 303 |
Description
Edit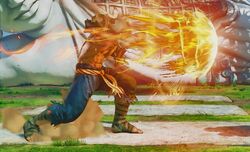 Sagat fires a more powerful, multi-hitting version of the Tiger Shot. In some games, such as the EX series and Capcom vs. SNK series (as seen above), there is a ground version of the move as well. In Street Fighter V: Arcade Edition, the move becomes available during Sagat's Tiger Charge V-Trigger and can be fired twice in a row.
The Tiger Cannon makes its debut as one of the three Super Combos available to Sagat. For a Level 3 Super Combo, the Tiger Cannon hits 6 times, losing a hit per level.
The Tiger Cannon is not as versatile as other projectile Super Combos, since it cannot hit crouching opponents. On the flipside, the height also makes it much more difficult to jump over.
In the EX games, the Tiger Cannon is launched at a very fast speed and sends the opponent flying through the screen, but it only hits once. He can fire both a high and a low version.
The Tiger Cannon retains its properties from the Alpha games. However to counter its limitations against crouching opponents, Sagat gains the Low Tiger Cannon in vein of his Low Tiger Shot.
The high version has more invincibility on startup, compared to the low version. In SNK vs. Capcom, the Tiger Cannon is unique in that it can plow through lesser projectiles and still deal full damage.
The Tiger Cannon makes its return in Super Street Fighter IV as Sagat's second Ultra Combo. It is much more useful, as it now has a big enough hitbox to reliably hit crouching opponents, while still being difficult to jump over. With a full Revenge Gauge, this attack inflicts roughly 38% damage on an opponent with standard health.
The Tiger Cannon makes its return in Super Street Fighter V as one of Sagat's special attacks during his first V-Trigger. It can be cancelled from all of his normals. Tiger Cannon can be performed twice at the cost of half of his V-Gauge. Not only it hits the opponent five times, but it is primarily used to extend combos.
As with many of Sagat's attacks, a distinct tiger's roar can be heard when this move is used.
Screenshots
Edit
Community content is available under
CC-BY-SA
unless otherwise noted.