This article or section is a stub.
You can help the Street Fighter Wiki by expanding it.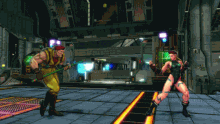 Trick Landing is one of Rolento's Unique Attacks in Street Fighter X Tekken.
Description
[
]
Rolento delays his landing with his rod.
Tactics
[
]
This attack can be used to bait throw tech attempts. Players can also fake doing an empty jump low to trick rod to bait out certain attacks from the opponents and punish them accordingly.
Gallery
[
]