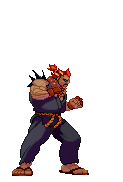 Greetings. I'm Muhammad Rizky Abdul Hakim. My nickname is Oki. I'm fans of everything. I've loved Galaxy Angel since my age was 13. I've known Street Fighter since I was kid. I bet Street Fighter is one of the sources of my inspiration (such as Dragon Ball, Fist of the North Star, One Piece, Larva animation, Disney cartoons and Loone Tunes).
In this wiki, I try to add true info (such as adding pieces of info and adding images or video). If I'm wrong, help/fix me if you can.
I contribute the wiki for fun (it seems important to that so though). I'd like to contribute Galaxy Angel Wiki for secret reasons. Any of you guys would like to visit that wiki.
Like Lord Grammaticus, I'm busy too. I rarely work on the Street Fighter Wiki. If you want to talk to me, be nice or you'll feel guilty, maybe. I begin to wonder if I become number one in this wiki.
Achievement
Edit
Success! I got the silver badge "Caffeinated"!
I got my first gold badge "Lucky Edit" in December 23, 2014!
I got my second "Lucky Edit" on January 28th! How could this happen?
My favorite games
Edit
My favorite pages
Edit
Deleted Pages
Edit
Below is the following pages deleted by the VSTF Minato826:
If you want to say to me, please Email me at muhammadrizkyabdulhakim2@gmail.com.
Community content is available under
CC-BY-SA
unless otherwise noted.