Thanks :D and I know she screams really loud! I tried to make my thing as confusing as possible lol —JuriHan 19:37, August 17, 2010 (UTC)
Say, do you think you could design me one of those user-template thingys like the one you jut put? But with Ryu or Ken (either). --HavocReaper'48 04:33, August 18, 2010 (UTC)
To user the put in {{HR|time=~~~~~|text=}} that's for a regular talk bubble. {{HR|time=~~~~~|surprised=}} for your surprised one (you can use it as happy too). And {{HR|time=~~~~~|angry=}} for your angry one. Enjoy! :) —JuriHan 05:14, August 18, 2010 (UTC)
Country Template
Edit
Oh yeah about that... Like what do you want in it? All I could think of is like first game appearance haha. —JuriHan 06:20, August 23, 2010 (UTC)
hey man, can u change the poll. current ones been up 4 a while. DARK PRINCE 20:39, August 27, 2010 (UTC)
grapplers r characters who mainly use grapples. like zangief and t hawk for example, a majority of their move set is based on grab type moves. DARK PRINCE 15:30, August 28, 2010 (UTC)
RE:Countries
Edit
Oh yeah it is. :/ I forgot to tell you that the other night. I forgot >> —JuriHan 18:25, August 28, 2010 (UTC)
Sheng Long
Edit
Sheng Long has two implications that I'm aware of: the actual meaning, which would be at best a section in the Shoryuken article, and the early misinterpreted meaning which I believe is already mentioned in the Gouken article. But if there's much more information than I realise, then by all means make an article for it. You don't have to ask me for permission!--Evilsbane 09:12, August 30, 2010 (UTC)
cud u delete dis page.DARK PRINCE 22:46, August 31, 2010 (UTC)
fei long
Edit
cud u take a look at fei long's article. his info table seems to be deleted. i dont know how to get it bak. cud u chek it out. DARK PRINCE 19:40, September 4, 2010 (UTC)
Final Fight Streetwise
Edit
Hey there HavocReaper! there are some unregistred contribuitor that are deleting stuff from the page in the section Final Fight Streetwise saying the game is canonical, but youre known that the game in non-canon are you, because Evilsbane confims that the game is non-canon, can you please block Cody's page? Tesshu, When The Law Fails to Serve Justice one can buy Justice. 02:19, September 6, 2010 (UTC)
Tadaa!!!
Edit
Hey Havoc, I got present for you. I did this for my games years ago. Hope you like this sprite.User_talk:Ericard 15:51, September 14, 2010 (UTC)

That's a modified version of it so you can use pictures from Photobucket. I don't really want people to upload pictures because it'll eventually get out of hand. Marexl My Talk738 Edits In this Wiki 20:05, September 14, 2010 (UTC)
They're stubs...
Edit
...since they don't really have much information in them. True, there's not much more I can add at the moment, but that's only because I'm really not in the mood to do sections in each and every one for "combos which use it", "advanced strategy", "damage tables (light, medium, heavy, EX)" and "frame data". And that's only covering how they work in the very latest version (SSF4) - you could do as much again for previous instalments in the series (such frame data for the attack in HD Remix, or 3rd Strike). But that's a project for another day, if ever.
The stub tag is mostly to denote "this is kind of short for an article as-is, so anyone who can add anything, please do so - we'd like to see more in it".--Evilsbane 23:44, September 15, 2010 (UTC)
If you say so! :P I'll stop marking them, so.--Evilsbane
New Staff Page
Edit
How do you like it? :D Oh and I really wanted to make you a bureaucrat but I didn't want to leave Prince as the only on being admin so I'm sorry :( Marexl My Talk738 Edits In this Wiki 18:09, September 19, 2010 (UTC)
Move Lists
Edit
They're frickin' time-consumin', aren't they? :P --Evilsbane 21:18, September 19, 2010 (UTC)
Yeah, I consulted Strategy Wiki for 3rd Strike, too, but I think all the attack names were based on the Japanese version or something, because there were a few that I KNEW weren't named what they were on SW. So I went to GameFAQs and looked it up and, as expected, they had the names I remembered from when I borrowed 3rd Strike from a friend. Just goes to show that checking multiple sources is a good way to catch stuff like that.

Anyway, I was wondering: which version of SF2 are you listing the moves for? Because I know for a fact that back in the day, the input for Tiger Knee was different - it was the same as Fei Long's Chicken Wing. But later versions like HD Remix have the input we know today.--Evilsbane 21:32, September 19, 2010 (UTC)
ERICARD Anything else?

The Master of Crane and Mantis!!

It is hard to believe that Chun-Li was Gen's student. But it was too impossible for Gen to tough Chun-Li and Learn Kiko-Ken. If I was a director, Chun-Li should learn Kiko-Ken by someone else, except Master Gen.
Gou-Hadoken
Edit
HavocReaper48 - You must defeat Sheng Long to stand a chance!:
TALK - 03:27, September 23, 2010 (UTC)
Huh? What do you mean? I think it is, yes. Where is this question coming from? Also be sure to make a new header when opening a new topic to discuss on one's talk page.
Tadaa(Part2)!
Edit
Here: I make the image look low res version. You can use it for good. Originally was 452kb, but this one is 160kb. Atleast less is better.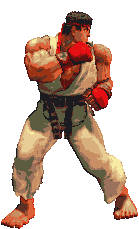 User_talk:Ericard 15:46, September 26, 2010 (UTC)
You welcome. This is the low res version in only 160kb. If you like to see the original version, you can look at Ryu page, it's 465kb.--118.100.77.4 10:15, September 27, 2010 (UTC)
Tadaa(Part3)!
Edit
Havoc, I've created this sprite in Street Fighter EX Wiki:
SFW=>

SFEXW=>

User_talk:Ericard 06:37, October 9, 2010 (UTC)
hey man, the old poll has been up for quiet a while. i think we cud use a new 1. DARK PRINCE 13:47, October 9, 2010 (UTC)
Can I change other characters in the template:Featured Article?User_talk:Ericard 15:41, October 9, 2010 (UTC)
Skip about FA, I've not seen any footer on Street Fighter Wiki, but inSoulcalibur Wiki it wrote something about licensed from the very below of the text. Here:


User_talk:Ericard 16:19, October 9, 2010 (UTC)
It was said that only admin can edit them in "footer", but it didn't showed up in my SFEXW either. But I still need to know this troubleshooting to the wiki comunity admin.User_talk:Ericard 02:29, October 10, 2010 (UTC)
Oh right; I was going by SFA3, where it's Mekong. It also makes more sense, since military nutcase like Rolento would be likely to reference the Mekong River Delta in Vietnam.--Evilsbane 08:43, October 11, 2010 (UTC)
Maybe there is a problem to some footer on wiki site didn't appears because thereis a problem from admin. This is what he said to me:
"Right now, Oasis does not recognize the Custom Footer extension. I have asked our Tech team to write a patch for the matter; can't give you a timetable though."
And I guess, we are too late...User_talk:Ericard 14:51, October 11, 2010 (UTC)
I wanted to link to a video in cody's trivia that showed about the first street fighter logo in the intro, i mistook the link the first time and i fixed it though. will i still get a warning or something? sorry im new to wikias.69.71.188.18 05:56, October 16, 2010 (UTC)
lol my bad man XP i just figured the ones i put up before were 1 sided, where 1 option was winning by a land slide. i gota make the questions more wisely to ensure there r no land slides. i'll update it once a week from now on. thnx 4 the heads up. DARK PRINCE 19:54, October 18, 2010 (UTC)
main page
Edit
is the main page ok on yor pc? it appears on mine dat i can only see the news section whereas the article of the month and the poll have seemed to dissapeared. DARK PRINCE 19:47, October 27, 2010 (UTC)
ok. we shud protect it so dat only admins can edit it. DARK PRINCE 22:13, October 27, 2010 (UTC)
Are you moving the wiki? -bl00 d00d
Y'all come back now, y'hear?
Edit
Your work is invaluable to the wikia, so don't be TOO inactive! But we understand if you have to. TT_TT--Evilsbane 20:54, November 11, 2010 (UTC)
Yeah, SF3 articles is pathetic cause I am not really good in making the articles. And that Cammy Gaiden, is actually an official from Capcom, have you read those? User_talk:Ericard 03:53, December 17, 2010 (UTC)
Sorry I totally forgot to reply for the link of Sly 4! It made my day! I can't wait for it it looks and sounds like it'll be good from what I hear! Thank you! Marexl My Talk738 Edits In this Wiki 18:40, December 18, 2010 (UTC)
MEETING REQUEST TO ALL STREET FIGHTER WIKI STAFF.
I hae noticed, and a lot of them are pretty good! Obviously you still get the unregistered users vandalizing stuff, but by and large we seem to have a good crop of newbies. Oh, and thanks for the archiving tip. --Evilsbane 09:38, March 14, 2011 (UTC)
Problems with a user
Edit
I see that you're an admin here, I don't know if this is the right way to do this, but User:Blackman1 is uploading inappropriate pictures to the gallery. I just mentioned this because I think the staff need to know, I apologise if I've reported this wrongly.CrashGordon94 07:51, July 5, 2011 (UTC)
Porn guy
Edit
Yeah, I saw! You had it handled before I had a chance to do anything! Maybe we need some more mods though.--86.43.184.42 08:36, July 6, 2011 (UTC)
Tell me about it. I saw the sakura and cammy pages, removed the pictures, he added them back, then someone took them off. What kind of sick person uploads stuff like this?--Lordxehanort 18:11, July 6, 2011 (UTC)
Community content is available under
CC-BY-SA
unless otherwise noted.