Hey folks, welcome to my talk page! Here you can ask me questions, discuss with me about things, whatever you want! 
Hi, welcome to Street Fighter Wiki! Thanks for your edit to the Patriot Sweeper page.
Please leave a message on my talk page if I can help with anything! Lord Grammaticus (talk) 18:09, November 27, 2013 (UTC)
Re: File:AlexCameo.png
Edit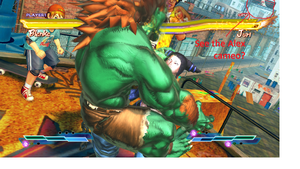 Do you have an 'original' version of this image (i.e. without the red arrow added in Paint)? We prefer to use unaltered images where possible; a note can simply be made in the gallery and file descriptions.

Lord G.
matters.
Talk to me.

23:30, February 26, 2014 (UTC)
It's no major problem, I'm just asking if you saved a copy of the image before you added anything. If not, that's fine; I'll see if there might be a potential workaround or not. Lord G. matters. Talk to me. 19:15, March 3, 2014 (UTC)
wake up. xD im back. Hunter
Your buddy!
Edit
Hello Lee :) It's me alright!!
I hope to start editing here soon! How are you doing?
No lol no adminship, It's not something I'm working towards though, doesn't really matter to me haha.
-So glad to talk with you again, friend. I've just started here, and together we can be best editors exist ;D
Well then I just hope you won't abandon your CCSW progress eh? You've worked hard for it :)
I can help you if you'd like !

Yep we can talk to each other more now haha :D
Tonverg11 (talk) 19:40, April 28, 2014 (UTC)Tonverg11
-Sounds very exciting us two editing here :D I
I wouldn't think of abandoning CCSW, but I won't be as active at editing anymore, I made 5000 article edits since November :P I've done my share for now
I'll still edit but not as much, I hope to contribute here more :)
I'll start doing Tekken wiki as well, shame you aren't there much though? 
-RoIento
Im also going to start contributing here.
I need a place to hang out every so often. Not much has been happening in CCSW.
- Emma
-Sheez guys, I don't want you to stop editing CCSW because of me... That's not the point. Anyways, as we together. Emma, doo you know Street Fighter ? Do you like it?
And RoIento, I'll try to help you in Tekken wiki, but don't add sprites there.
It's illegal.
Tonverg11 (talk) 11:13, April 30, 2014 (UTC)Tonverg11
No clue whatsoever. Ive seen videos on it though. - Emma

I haven't completely stopped editing, it's just after 5000 edits I've lost some motivation!  Lol maybe I'll get the urge in the future, but at the moment I've done my share of editing haha.
Is it really illegal to upload sprites on the Tekken wiki? How come? Come to think of it I don't think I've seen a Tekken sprite at all! Or I've never bothered searching for it.
-RoIento
-Yeah once I uploaded Kazuya Sprite and someone told me it is illegal by the rules of the Wikia. Well we can't just upload fanart.
Were all on chat in the CCSW. Come join us!!
- Hunter
As you can see by the above link, I've moved the article you started to a more fitting name. I'd also like to say good job with providing the sprites for it.
However, I also want to recommend that if you're going to make several consecutive edits to an article, you should heed the following:
Use the Preview button to ensure you have the ideal setup first.
Keep in mind that you can upload multiple photos in the same editing 'session'.
If nothing else, try to at least mark some edits as minor by marking the checkbox above the edit summary.
Thank you, and keep it up.

Lord G. matters. Talk to me.

20:25, March 5, 2014 (UTC)
Thanks for the supports. Thanks for your helping too!
Tonverg11 (talk) 11:22, April 29, 2014 (UTC)Tonverg11
Question
Edit
Do you know which game this is from?

Lord G.
matters.
Talk to me.

19:42, March 7, 2014 (UTC)
I am sure it is not a fanart, and is a real game, but I am not sure what's the game. Took it from a website of Games, and it has a lot of sprites too. I wanted to improve the sprites section so I've added this one.
Tonverg11 (talk) 11:19, April 30, 2014 (UTC)Tonverg11
Hmm...
Well, go and double-check to see if they listed a game for it; to clarify, fan-made sprites aren't allowed in the mainspace (articles, that is), just on userpages. If it is ripped from a game, make sure to state which one in the image's summary.
Also, I'd like a link to this website as well.

Lord G. matters. Talk to me.

20:00, March 7, 2014 (UTC)
-Here you go.
http://www.fightersgeneration.com/characters3/ryu-a.html
I took al other sprites I've uploaded from there. 
If there is any problem with this site, tell me and I'll stop adding them.
This specific Joudan Sotogeri is on page 12.
Oh and by the way, 
http://www.fightersgeneration.com/characters3/ryu.html
This is Ryu's page on the website, if you'd like it.
Tonverg11 (talk) 11:19, April 30, 2014 (UTC)Tonverg11
Alright, it seems they've updated quite a bit since I last visited; I've been focusing more on article quality than image uploads, so thank you for that.
Thing is, they do occasionally upload fan-made stuff on there, and I can't tell if that .gif I mentioned is one such image. I'll leave it in the article until I can find a way to verify. Lord G. matters. Talk to me. 20:48, March 7, 2014 (UTC)
Alright then. Glad I could've help.
Tonverg11 (talk) 11:19, April 30, 2014 (UTC)Tonverg11
Sorry for butting in and maybe I'm wrong here but isn't that sprite from Namco X Capcom?--5.150.236.171 05:14, March 8, 2014 (UTC)
Hello there, lol you don't have to apologise! 
Yes I have checked it is NXC.
Thanks for your help!
Tonverg11 (talk) 11:19, April 30, 2014 (UTC)Tonverg11
You are welcome. :) --5.150.236.171 11:39, March 8, 2014 (UTC)
Re: Congrats
Edit
Heh, while it says that I currently have 2,020 edits, I haven't recieved the "Wiki Expert" badge for 2,000 edits. It says 1,832/2,000 edits lol. It doesn't sync up. But thanks. It's been fun editing here for so long. General Awesomo (talk) 18:27, May 9, 2014 (UTC)
Community content is available under
CC-BY-SA
unless otherwise noted.