The V-Reversal (Vリバーサル, V Ribaasaru?) is a mechanic introduced in Street Fighter V. V-Reversal is one of four divisions of the V-Gauge, along the V-Skill, V-Shift and V-Trigger.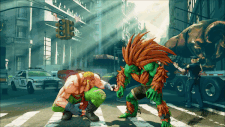 Executed by pressing forward and pressing all three punch or kick buttons after blocking an attack, the V-Reversal uses one bar of the V-Gauge to perform a counter attack, similar to the Alpha Counter of the Street Fighter Alpha series. V-Reversals all deal Provisional Damage.
Some V-Reversals are attacks that either knock down the opponent, or push them backwards to give their character some space. Other V-Reversals places their character on the opposite side of the screen.
Community content is available under
CC-BY-SA
unless otherwise noted.