The V-Reversal (Vリバーサル, V Ribaasaru?) is a mechanic introduced in Street Fighter V. V-Reversal is one of four divisions of the V-Gauge, along the V-Skill, V-Shift, and V-Trigger.
Description
[
]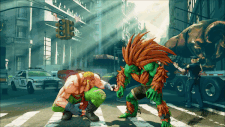 Executed by pressing forward and pressing all three punch or kick buttons after blocking an attack, the V-Reversal uses one bar of the V-Gauge to perform a counter technique, similar to the Alpha Counter of the Street Fighter Alpha series.
Some V-Reversals are attacks that either knock down the opponent, or push them backwards to give their character some space, dealing Provisional Damage and being incapable of knocking an opponent out. Other V-Reversals places their character on the opposite side of the screen. V-Reversals are safe on block (with the exception of Cammy's) and are strike and projectile-invincible, though can be grabbed if an opponent recovers in time. They also reduce the user's stun gauge on hit and whiff, making them useful in scenarios where being stunned is a significant threat.
List of V-Reversals
[
]
Predecessors
[
]
Trivia
[
]
The inability for V-Reversals to score a KO follows the nerf Cross Cancels acquired on their native game in the latest update.
Gallery
[
]