The V-Shift is a mechanic introduced in the fifth season of Street Fighter V: Champion Edition. V-Shift is one of four divisions of the V-Gauge, along the V-Reversal, V-Skill, and V-Trigger.
Description
[
]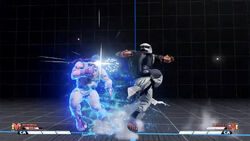 A new defensive option that uses a half bar of the V-Gauge. By pressing Heavy Punch and Medium Kick simultaneously, the character perform a back dash with the character's entire body radiating with blue energy. After activation, the character is invincible to almost any attack; including throws and projectiles. When a character performs a V-Shift as the opponent attacks, a brief "slowdown" occurs until the end of the animation of the back dash; thus ending the character's invincibility state. The slowdown does not occur against a throw.
Another follow-up added to this mechanic is the V-Shift Break, which is a counterattack. During the slowdown effect after avoiding the attack, by pressing Heavy Punch and Medium Kick again, the character retaliates with a strike that knocks the opponent back and inflict provisional damage. Not only does the V-Shift Break have decent range, but it allows the player to break through an opponent's chain of attacks.
List of V-Shift Breaks
[
]
Gallery
[
]