Line 1:
Line 1:
−

{{quote|{{nihongo|Yoga, Inferno!|ヨガ~、インフェルノ!|Yogaa, Inferuno!}}|[[Dhalsim]]}}

+

{{quote|{{nihongo|Yoga Inferno!|ヨガ~、インフェルノ!|Yogaa Inferuno!}}|[[Dhalsim]]}}

 

The {{Nihongo|'''Yoga Inferno'''|ヨガインフェルノ|Yoga Inferuno}} is one of [[Dhalsim]]'s [[Super Combo]]s, introduced in ''[[Super Street Fighter II Turbo]]''. It also appears in the ''[[Street Fighter Alpha series|Street Fighter Alpha]]'' series, [[Street Fighter IV series|''Street Fighter IV'']] series, and is his [[Super Art]] in ''[[Street Fighter X Tekken]].''

 

The {{Nihongo|'''Yoga Inferno'''|ヨガインフェルノ|Yoga Inferuno}} is one of [[Dhalsim]]'s [[Super Combo]]s, introduced in ''[[Super Street Fighter II Turbo]]''. It also appears in the ''[[Street Fighter Alpha series|Street Fighter Alpha]]'' series, [[Street Fighter IV series|''Street Fighter IV'']] series, and is his [[Super Art]] in ''[[Street Fighter X Tekken]].''

 
 
---
Revision as of 04:33, 31 August 2019
The Yoga Inferno (ヨガインフェルノ Yoga Inferuno?) is one of Dhalsim's Super Combos, introduced in Super Street Fighter II Turbo. It also appears in the Street Fighter Alpha series, Street Fighter IV series, and is his Super Art in Street Fighter X Tekken.
He also has several variations of the move, such as Yoga Stream, Yoga Volcano or Yoga Tempest.
Description
Dhalsim breathes out a large Yoga Flame which burns the opponent. Depending on the game, the attack will be a large Yoga Flame, or he will breathe the flame in a flamethrower-like style and angle it up and down.
Street Fighter Alpha series
How long the flame lasts depends on the level of the Super Combo; the lowest level lasts a few seconds and does 3 maximum hits, Level 2 lasts a couple of seconds and does 7-8 hits, and Level 3 lasts quite a few seconds and does a total of 13 hits.
In the Marvel vs. Capcom series, the move has almost the same properties, though the flames now last longer and spray wider.
Street Fighter EX series
In the first two games, the attack is similar to how it was in the Alpha series. From Street Fighter EX2 Plus on, it was retooled into a Meteor Combo; it is now much larger, lasts longer and Dhalsim flies in the air when he uses it.
Street Fighter IV series
Dhalsim no longer breathes the flame in multiple directions, and keeps it straight ahead, akin to the Yoga Flame.
Tactics
In the Alpha series, the move can easily trap or corner an opponent; however, it is extremely unsafe on block due to its limited hitstun, and can then be easily countered.
In Street Fighter IV, Dhalsim can combine Yoga Inferno with his Yoga Catastrophe and Yoga Teleport, due to the Ultra Combo's quick recovery.
Videos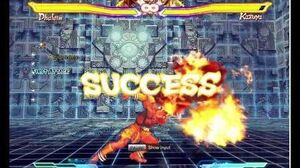 Community content is available under
CC-BY-SA
unless otherwise noted.