The Yokusenkyaku is one of Chun-Li's unique attacks, introduced in Street Fighter V.
Description
Edit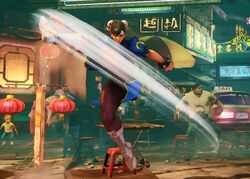 Executed by pressing forward and Heavy Kick, Chun Li will perform a slight hop roundhouse kick, similar to one of her normal attacks from
Street Fighter III: 3rd Strike
.
It is an airborne attack, making this move effective for stuffing low attacks. It's primarily use is to apply pressure on her opponents while advancing into close-range. Even if the opponent blocks it, Chun-Li is fairly safe. Using this move to set up meaty situations, this attack greatly improves Chun-Li's neutral game. It is also one of Chun-Li's Crush Counter moves. She can fish for Crush Counters with Yokusenkyaku, which puts her opponent in a spinning state and allows Chun-Li to dash forward and follow up with a small combo.
Community content is available under
CC-BY-SA
unless otherwise noted.