"Hope you'll like this! Get ready! (

俺の渾身の技! くれてやるぜぇ!

Ore no konshin no waza! Kurete yaru zee!

?

)"
—Yun
The You Hou (揚炮, You Hou? "Hoisting Roast") is one of Yun's special attacks, introduced as his first Super Art in the Street Fighter III series.
Description
Edit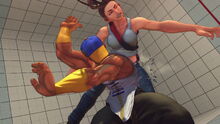 Yun sets himself in a motionless stance for a second and delivers an upward arm lash to the opponent, then a Tetsuzanko which knocks them into the air. As they fall back down, he firmly plants his forward foot and delivers a devastating upward punch into the haplessly falling opponent.
In the Street Fighter IV series, the move starts with a cross arm stance, and adds an elbow strike to the chest with the 'following' arm in-between the arm lash and Tetsuzanko. Yun will perform the whole attack regardless of whether the Ultra cinematic plays out or not, but it will do less damage if the opponent is hit without the cinematic, which also occurs if the move is done under the effects of the Genei Jin.
This attack is often used for the potential amount of juggles it can set up and end; however, it has quite a short range. It is thus mainly used in close-quarters as a combo starter, finisher and/or a frame trap due to the startup invincibility.
In the Street Fighter IV series, it is possible to juggle the foe (without triggering the animation) and set up followup similar to the Street Fighter III series incarnation; however, the timing for this is tricky, normally due to the move being used in tandem with Genei Jin and the resulting conflict from each of the afterimages' timing.
Miyako Arima from Melty Blood has her own version of the move that can be performed from her version of the Tetsuzanko as a special move. Akira Yuuki from Virtua Fighter also has his version as a separate standard/special move.

Notably, both characters perform only the upward punch, implying that Yun's two-to-three initial blows are deadly added touches before the famous technique.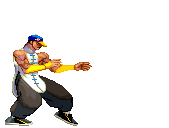 Community content is available under
CC-BY-SA
unless otherwise noted.