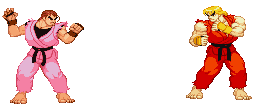 This article could seriously use some more conditioning. Some writing improvement.
You can help the Street Fighter Wiki by rewriting/adding to it.
This is a page listing Zeku's references in general pop culture since his debut in Street Fighter V.
Capcom games
Edit
Other video games
Edit
In Time Crisis 5 and its True Mastermind edition, Keith Martin from Time Crisis 2 is able to utilize Taijutsu as a boss character when he knocks his former partner and main antagonist Robert Baxter twice. Two of his kicks are similar to Zeku's basic attacks in the game.
According to Street Fighter V director Takayuki Nakayama, part of Zeku's design and techniques pay respect to Osman, a 2D side-scrolling video game from 1996 that was developed by Kouichi Yotsui and is considered a spiritual successor to Strider. The visual references can be mostly seen in young Zeku's standard uniform (specially in the similar backless, sleeveless shirt he and Osman protagonist Kirin both use). Two techniques were also confirmed to be named as nods to Osman: Bushin Gram - Teki (Teki being the name of the mercenary group Kirin belongs to) and the Bushin Kirinkyaku (named after the main protagonist). As Kirin was designed after the Kuniang of Strider, Zeku's energy kicks also closely resemble Kirin's powered-up kicks.
Television and Animations
Edit
In Cyber Team in Akihabara, during Episodes 23 and 24, Christian Rosenkreutz remains in his younger appearance as his present age is below 500 years old due to his drinking the Elixir in 1541, but when Crane Bahnsteik reveals his true colors, he rapidly ages while suffering to his death. His elderly appearance is similar to Zeku as both men had long gray/white hair as Christian's long hair is tied in a low ponytail.
In Disney's 2010 film Tangled, the main antagonist Mother Gothel remains in her young form, but when Eugene Fitzherbert cuts Rapunzel's very long golden blond hair into short to show her natural brown hair during the climax of the film, she rapidly ages until she turns into dust. This scene is a reverse version of Zeku's transformation between both his old and young forms.

Before Tangled's release, The Evil Queen from the 1934 film Snow White and the Seven Dwarfs and Queen Narissa from the 2007 film Enchanted can turn their youthful selves into old but different in both films. The Evil Queen can turned into a disguised old witch by drinking a mixed potion while Narissa can transform into any other forms such as both old and dragon form.
In the 2018 Philippine remake Miss Granny, Fely Malabano (portrayed by Philippine veteran actress and comedian Nova Villa) transforms to her younger self (portrayed by singer and actress Sarah Geronimo) after taking a photo by a mysterious photographer at the Forever Young Photo Studio. However she can revert back to her old self when she gained minor cuts or donating her blood to her grandson Jeboy Malabano (portrayed by Phillipine actor James Reid) after he got an accident by getting bump by the jeep and hit his head while on his way to the concert. At the end of the film, her friend Bert (portrayed by veteran actor and one of the members of APO Hiking Society Boboy Garovillo) also transforms into his younger self after her. Their transformation from old and young are similar to Zeku's but based on camera shots.
Community content is available under
CC-BY-SA
unless otherwise noted.